Bondi Beauty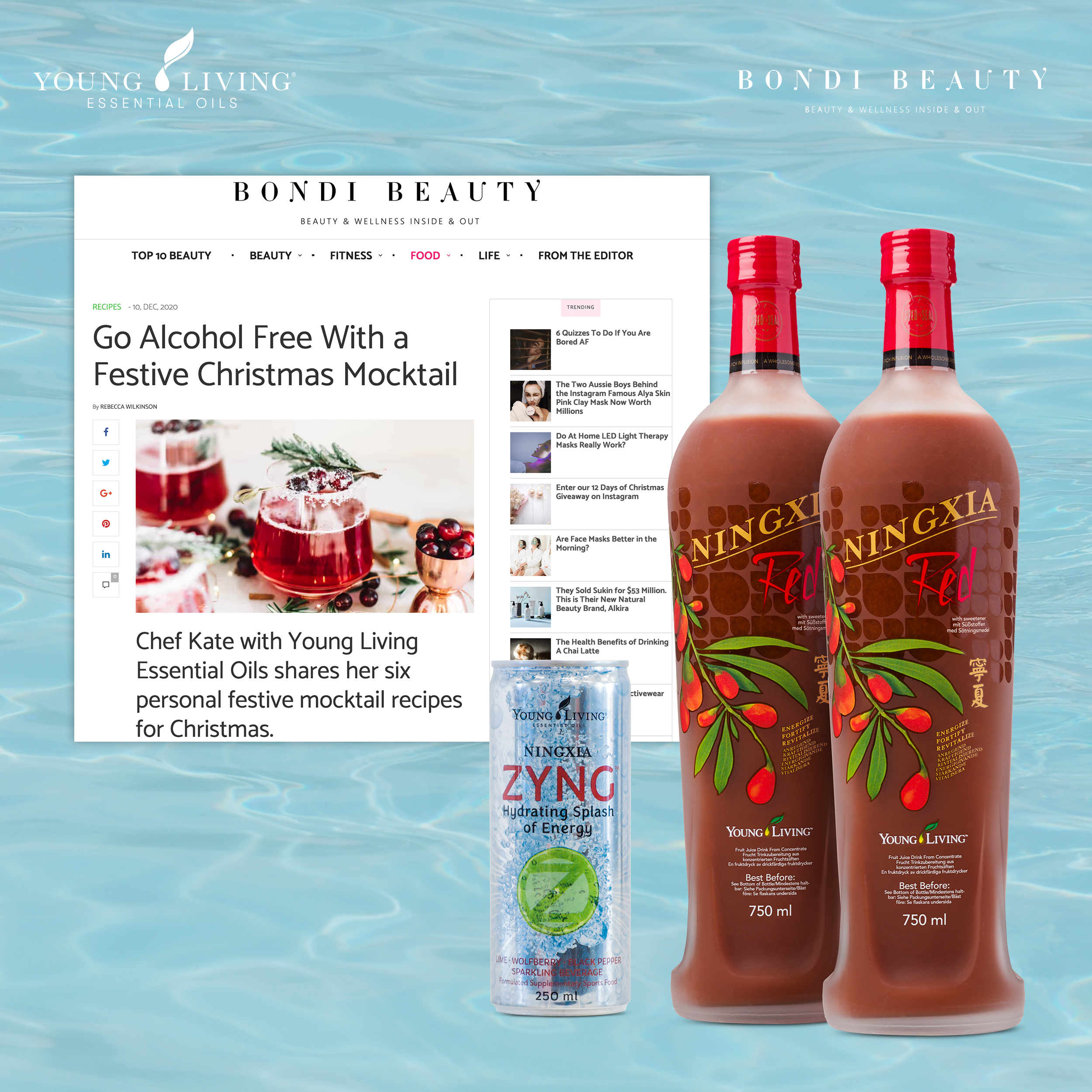 Bondi Beauty has featured Young Living in their latest 'Go Alcohol Free With a Festive Christmas Mocktail' article. Check out the
feature
to find out 6 festive mocktail recipes for Christmas that are full of healthy ingredients, like NingXia Red, NingXia Zyng and our culinary essential oils to make the flavour really pop! Learn more about
NingXia Red
.
SPA+CLINIC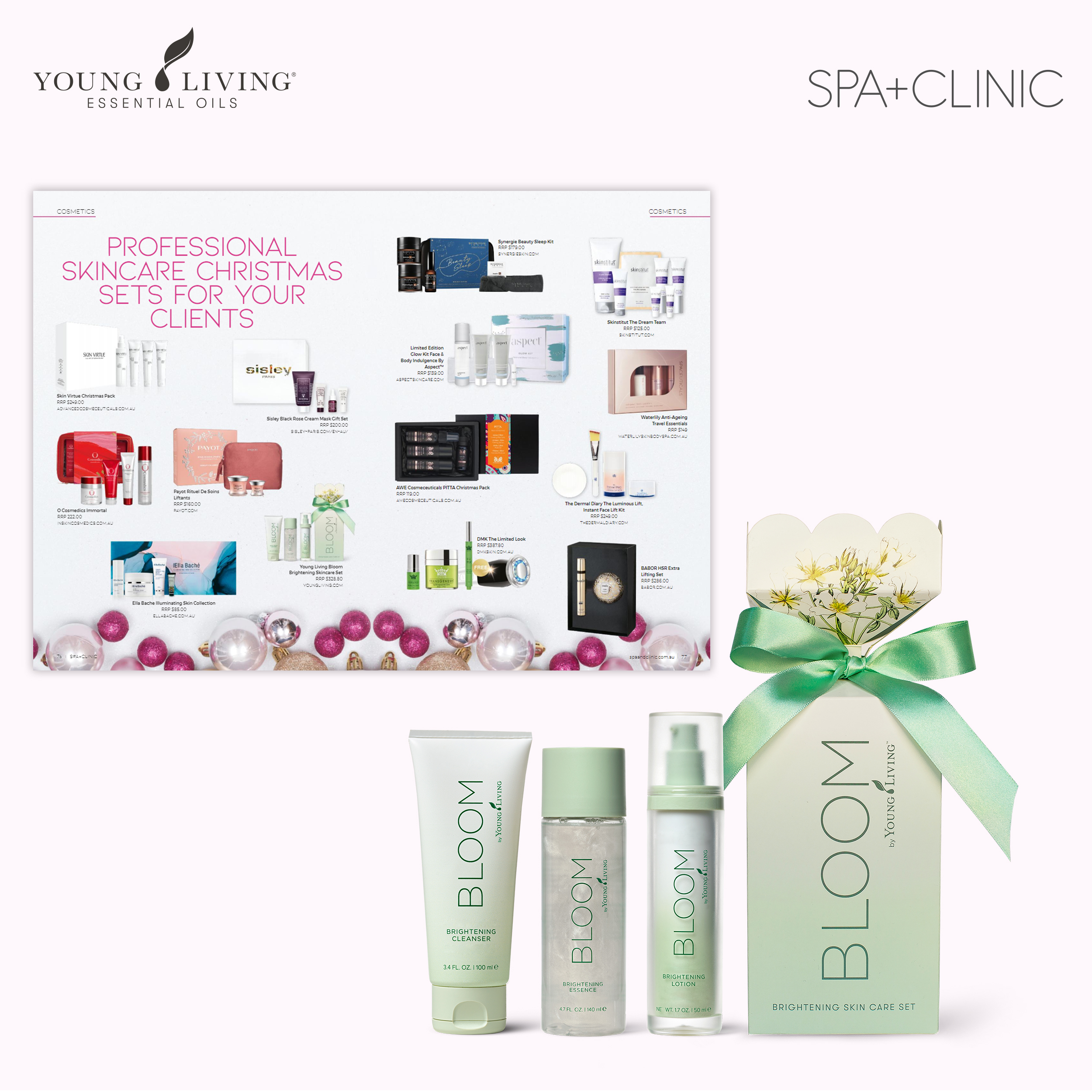 SPA+CLINIC has featured our beautiful BLOOM by Young Living Brightening Skin Care Set in their Christmas Gift Guide! This set is loaded with antioxidants and intense hydration to help rebuild the skin's moisture barrier while minimising the appearance of future damage. Learn more about BLOOM
here
.
Woman's Day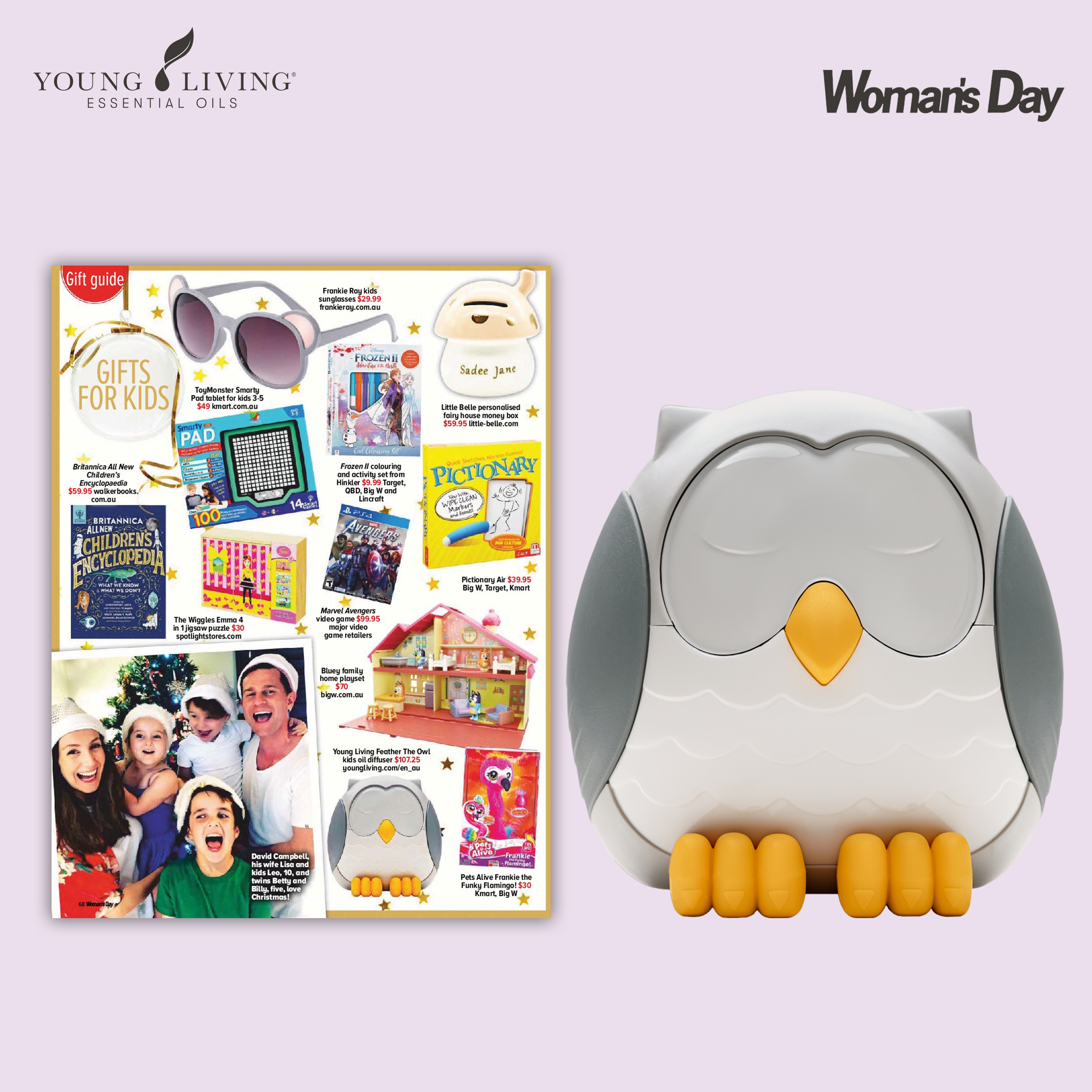 Woman's Day has featured our cutest essential oil diffuser yet, Feather the Owl in their Christmas Gift Guide! This custom-designed, ultrasonic diffuser functions as a humidifier, aroma diffuser, nightlight and white-noise machine—owl in one! Learn more about Feather the Owl
here
.
Sunsrise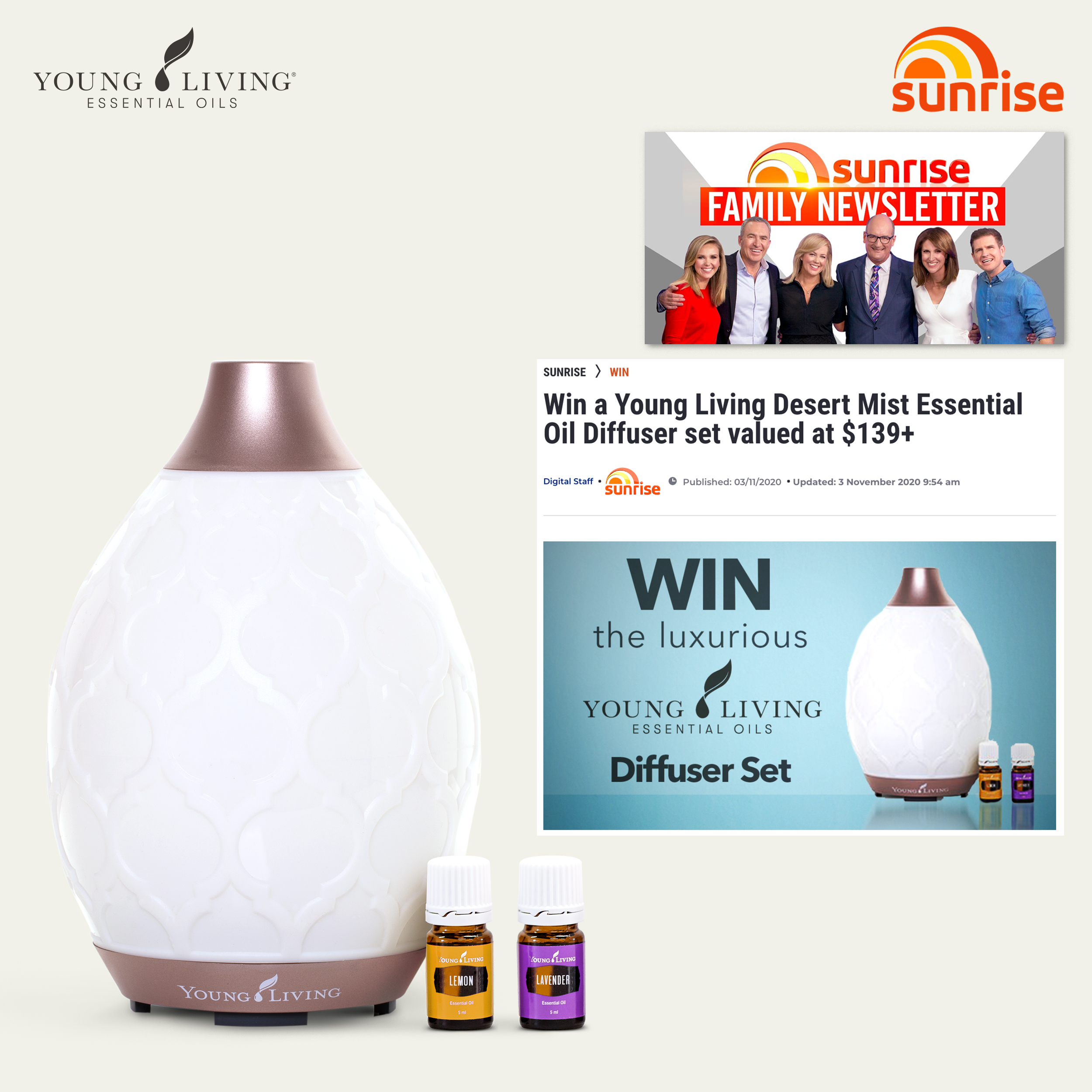 Sunrise Channel 7 recently held a competition for a chance to WIN a Young Living
Desert Mist Essential Oil Diffuser
,
Lemon
essential oil and
Lavender
essential oil worth over $134! This custom-designed diffuser features a romantic Moroccan trellis pattern, which brings a sense of the exotic into your home or office.
Gift Guide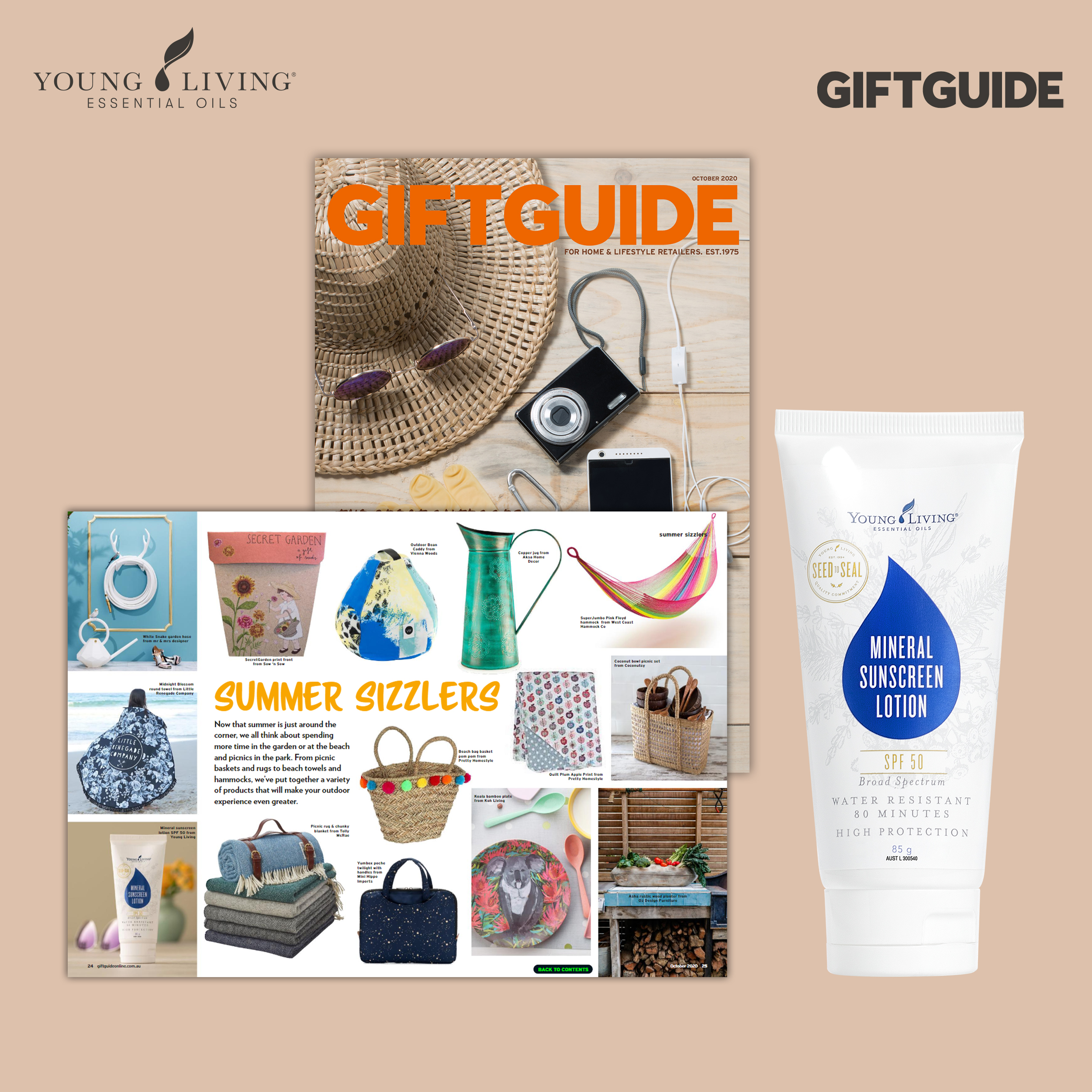 GIFTGUIDE, Australia's leading wholesale directory for the Gift and Homewares industry, has featured our Mineral Sunscreen Lotion SPF 50 in their latest issue. Our Mineral Sunscreen Lotion, formulated to protect you from UVA and UVB rays, is perfect for all skin types and features a naturally derived, chemical-free formula –
learn more now
..
SLIM Magazine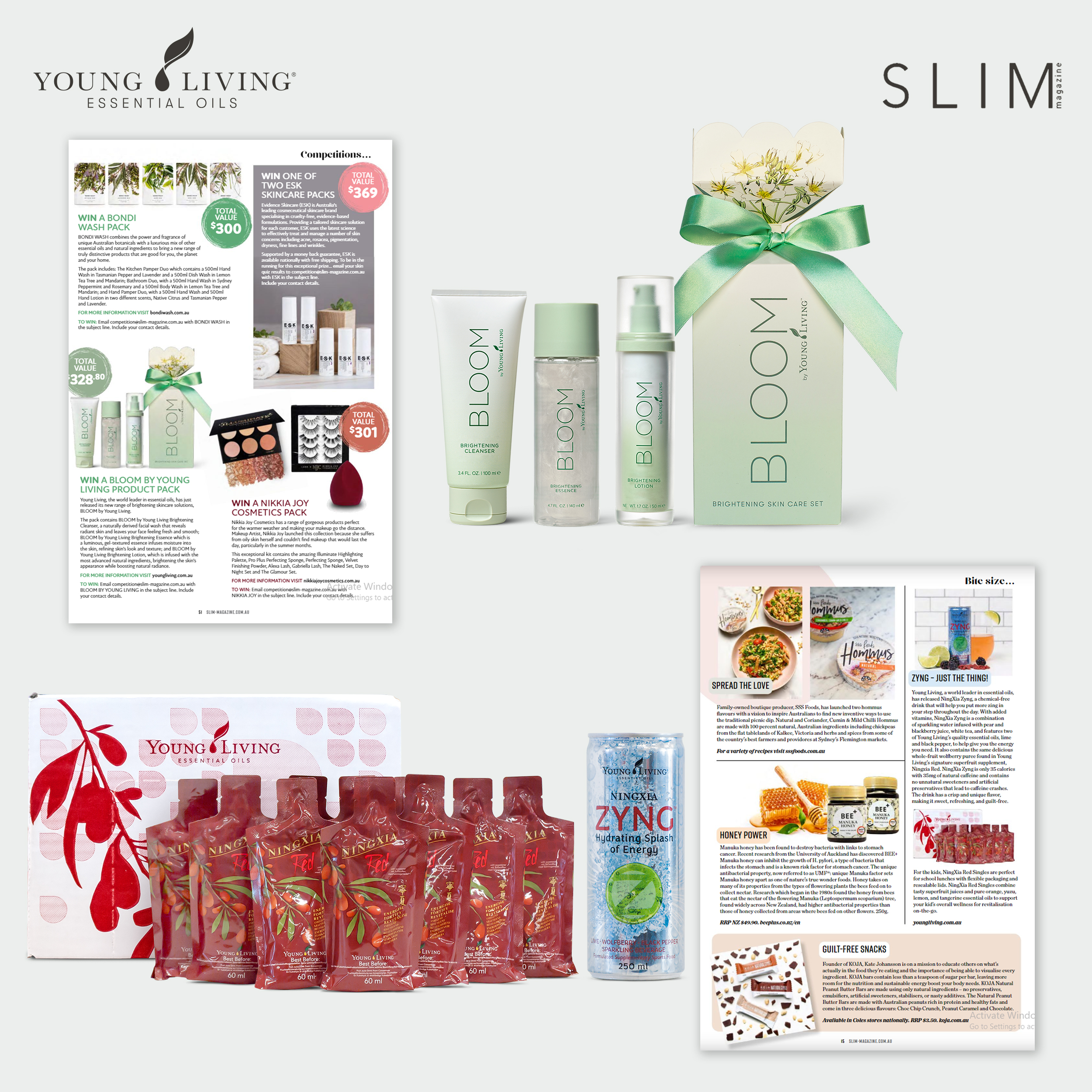 SLIM Magazine has featured NingXia Zyng, NingXia Red Sachets and BLOOM by Young Living Brightening Skin Care Set in the Summer 2021 issue! BLOOM by Young Living Brightening Skin Care System was developed to address common skin concerns such as dark spots, dullness/lack of radiance, dehydration and uneven skin tone. Check it out
here
.
Prevention
Young Living's
Tranquil Essential Oil Roll-On
has been featured in Prevention Magazine's Best of Beauty Awards 2020! The magazine voiced they "loved the ease with which you can roll this relaxing blend of lavender, cedarwood and chamomile pure essential oils onto your skin. Inhale for a moment of instant tranquility".
Brisbanista
Brisbanista has featured our
Shutran
range in their Gift Guide from Australian Businesses! The online publication shared that "Shutran Essential Oil by Young Living is an empowering blend specially formulated for men to boost feelings of masculinity and confidence. This wonderful blend is transforming, releasing, empowering, inspiring, refreshing, and invigorating."
The West Australian
The West Australian featured
Stress Away Roll-On
in the September issue as the perfect gift for the busy dads! This convenient roll-on makes it easy to bring the comforting scent of Stress Away essential oil everywhere you go. Whether you're applying it as a personal scent or to enhance a massage, you'll love having Stress Away ready to roll whenever.
The Mercury
The voice of Tasmania, the Mercury, featured our Lemongrass essential oil as a 'Spring Lust Have' in a September issue. Give your home a fresh spring vibe by adding a few drops of
Lemongrass essential oil
to your laundry, dishwashing or cleaning formula. The subtle citrus herb oil offers a sophisticated and relaxing aroma that will transform your home.
Who Magazine Australia
Who Magazine featured our Thieves Dish Soap in the September issue as a low-toxic cleaning product to try!
Thieves Dish Soap
is designed to easily clean dishes without any harsh or harmful synthetic ingredients, so you can feel good about anyone in the family lending a hand with dish duty. It is formulated with the highest-quality plant-based ingredients and 100 percent pure essential oils to make dishes sparkle!
Marie Claire
Don't miss Marie Claire's AMAZING Subscription Offer! Get your Young Living Essential Oil, Savvy Minerals, Eyeshadow Palette - No. 1 retailed at $118.70 for FREE when you subscribe to Marie Claire – 12 issues for just $69.99. Available for a limited time only.
Subscribe here.
Esprit Magazine Australia
esprit Magazine Australia featured NingXia Red in the Spring issue as a self-care item they are loving right now! NingXia Red is a blend of superfruit juices and pure Orange, Yuzu, Lemon and Tangerine essential oils. Enjoy NingXia Red daily to energise, fortify and revitalise the body and support overall wellness from head to toe.
Sunrise Channel 7
Foxtel: Lifestyle Channel Giveaway
In June 2020, Foxtel's LifeStyle TV channel gave one lucky winner the chance to make the most of staying at home during winter, with everything they could possibly need to enjoy life. They had some amazing prizes to give away in their huge prize bonanza which included our gorgeous
Aria Diffuser
and
Essential 7 Oil Collection
! There was something for every member of the family to enjoy.
Sunrise, Channel 7
Polo De'Marco Magazine
Issue 22 - International Edition

The Luxury, Living & Lifestyle Magazine Polo De'Marco features a 4 Page writeup on Young Living Essential Oils. The article, featured from pages 170 - 174 outlines the origins of essential oils, how they can help us live a life of purpose and wellness. The editorial also mentions how Young Living sources oils, referencing our farms, our proprietary Seed to Seal process and how our essential oils are the real deal.
You can read the Magazine here.
Sunrise, Channel 7
Sunrise, Channel 7 hosted a competition for the chance to win a Healthy Kids Bundle worth over $300!
The bundle features our KidScents range, Thieves Hand Sanitizer as well as a pack of our popular NingXia Red superfruit juice blend.
Check out our KidScents range here.

Shop NingXia Red here.
St. George & Sutherland Shire Leader
St George & Sutherland Shire Leader Newspaper featured our new Nature's Home Essentials bundle in the March 25th issue. The Nature's Home Essentials Bundle contains a selection of plant-based products infused with pure essential oils to help tackle your everyday household chores with ease. Our careful blend of botanicals makes our cleaning formula free from harsh chemicals and irritants—it's tough on dirt but gentle on you!
You can purchase the bundle here.
Get It Magazine
Check out Get It Magazine's, January 2020 issue featured our Stress Away Bath Bombs as part of their romantic Valentine's Day Gift Guide.
Buy our relaxing bath bombs here!
Studio 10
*Apply Mineral Sunscreen SPF 50 liberally 20 minutes before sun exposure. Reapply after 80 minutes of swimming or sweating, immediately after towel drying or at least every 2 hours. Always read the label. Prolonged exposure to the sun should be avoided. It is important to wear protective clothing, hats and eye wear when exposed to the sun.

Sunrise, Channel 7
Sunrise, Channel 7 recently hosted a competition for the chance to win a Savvy Minerals by Young Living Eyeshadow Palette! Each gorgeous shade is made with a Lavender-infused formula that includes coconut oil and shea butter for a velvety smooth application that easily blends and builds. Plus, without nanoparticles, fillers, parabens or synthetic fragrances, these stunning shadows meet your high standards with flying colours.
You can purchase the palette here.
Women's Health Magazine
Check out the January Issue of Women's Health Australia with Stephanie Gilmore on the cover! Page 24 features our full page ad, 6 Reasons to Drink NingXia Red!
Looking for a healthy gift for the wellness-obsessed person in your life!
Shop NingXia here.
Contact Us
Young Living Essential Oils (Australasia) PTY LTD.
PO Box 7707
Baulkham Hills BC
NSW 2153
Member Services: 1300 28 9536 (1300 AU YLEO)